Regular price
$48.00 USD
Sale price
$40.00 USD
Unit price
per
Sale
Sold out
Cheerful Superwash 100% Felt Resistant Merino Roving Dyed in Bright Pink, Green, Blue, and Purple "Unicorn" Colors
Perfect For Fractal Spinning to create amazing one of a kind gradient yarn for that special project. 
8 oz total 

4 oz braid dyed with 9" repeats of color
4 oz braid dyed with 18" repeats of color

What is Fractal Spinning?                                                                                             Fractal spinning is using different colors of fiber in different lengths to create a gradient blend of colors in sections.
The yarn shown for this roving was spun by splitting the longer repeat braid in half lengthwise and spun end to end on one bobbin and the shorter repeat braid split in half lengthwise and spun end to end on another bobbin.  Then you ply those bobbins together to create a 2-ply yarn.
Different splits will change the gradient and repeats in the yarn.
This is really fun technique to use to spin yarn. There is a general idea of what you will get but the final results are always a fun surprise.
Share
View full details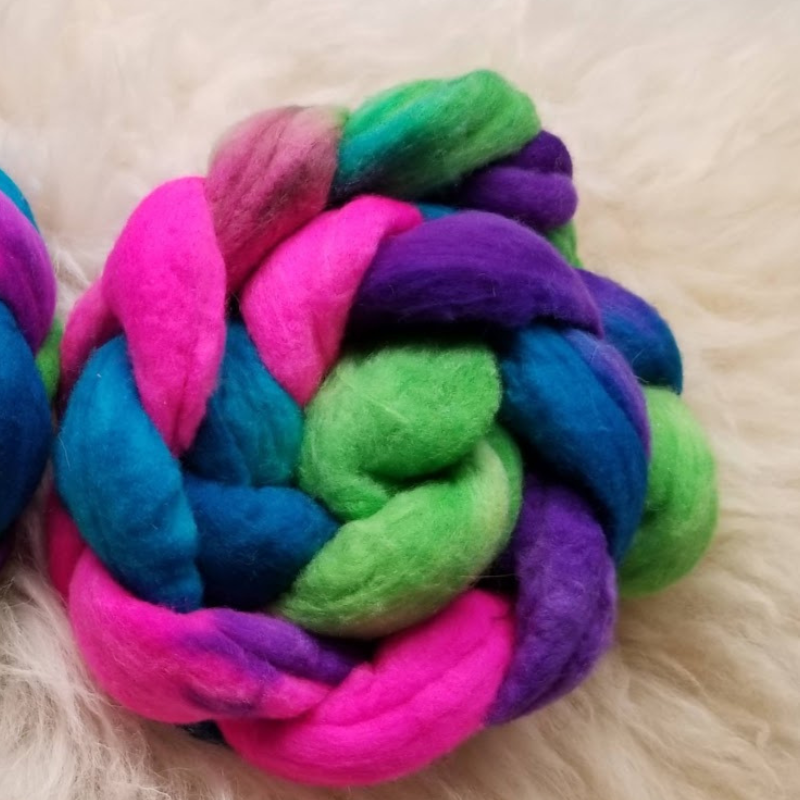 Ecofriendly

Reduce Chemical exposure

Reduce energy use

Reduce energy cost

Unscented

Better for the environment

Made in USA!

Fleeces and fiber products made from our small farm flock in the Pacific Northwest USA

Know where your products come from. Shop local, support small farm business!

Sharing Our Love of Fiber!

Quality, long lasting, products made with love using local plant, lichen, and mushroom dyes with our homegrown fiber.